Hot on the heels of our first release by Diamond, we release 'Exhale' the brand new single from UK, Kent based dj & producer Chris Fry.
Chris is no stranger to us, as he has released his 'Blind Spot' EP on Gents & Dandy's around mid March 2017. That EP was really well received and supported wordlwide.
The man hasn't been sitting still during that time. He's had releases signed on one of the biggest underground labels from across the pond namely Nervous,  as well as on the UK vinyl-only label 124 Records, helmed by Owain Bellis.
Exhale
Mr Fry's single opens with powerful, crisp and slightly (over)saturated drums that give it a bit of lo-fi feel, a thumping bassline and short looped chord sample that builds towards the break at the two minute marker. That's the place where everything is dropped and Chris introduces his lovely chord progession. The track builds up again with all elements underpinning the chords and sampled vocal that hints towards LTJ Bukem – Atlantis. Really well done and fitting the vibe of the track.
Promo feedback
Richard Earnshaw / Spiritchaser: Nicely chilled, Spiritchaser in support
Demarkus Lewis: Proper deep…
Fernando Campo: Very nice, thanks
Rissa Garcia: Excellent piano groover thanks!
Jon Manley: Classy outing from Chris Fry, cool vibes and chunky beats. Feeling this.
Lavvy Levan: Big LTJ Bukem 'Atlantis' Vibe on this with the vocals… and the piano work is right up my alley. Very nice indeed.
Kornum & Karma: Delicious stuff right here!
Releasedates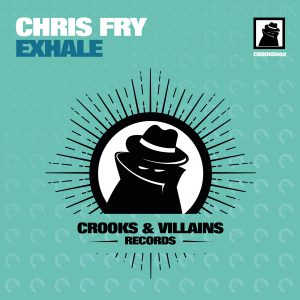 'Exhale' was released as Traxsource promo on 28th September and followed with a worldwide release on 12th October. Buy / Stream it here: https://fanlink.to/CROOKS002